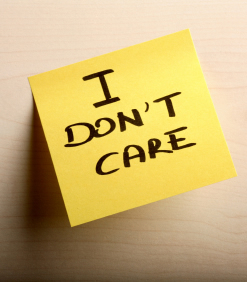 I've learned a lot over the years in ministry.  But the one thing that I've learned that has helped me the most is that "I don't have to care" if I don't want to.  Yes, I chose this title and topic because it's a "grabber" and seems controversial. I still care about making disciples, reaching the lost, hearing God's voice, recruiting volunteers, respecting my Pastor, fulfilling God's vision for my ministry… etc, etc, etc.
However, here is a list of a few things that I don't have to care about in ministry – if I don't want to:
What other CM professionals think of me
How I'm going to raise enough money to have the biggest and best
Having the biggest and best
Jumping on the bandwagon of the latest trend
Reading the latest book
Missing certain conferences
Having a certain circle of friends
Having a big enough office
Having an office at all
My current location
My past locations
Line items on a resume
What are yours?