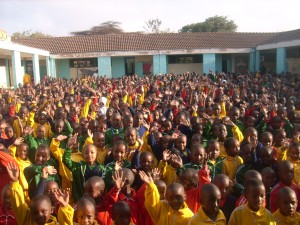 For those who were in the know, I spent 10 days in  Kenya (with a few days of travel on each end of the trip). I've been on several overseas missions trips… but this one had an impact on my life that I won't soon forget.
Our ministry team spent several days training children's ministry leaders from all over Kenya. They came hungry and we did what we could to resource them and encourage them. In turn, they would all go back to their districts and train the children's ministry leaders at the churches in their districts.
During our time there, we ministered in several schools. One school was over 2000 kids. The other 1500 and the smaller ones with 400. It was heart touching to see so many of those kids give their hearts to God. In one of the primary schools, our ministry team watched as four Muslim girls sat together near the front on the dirty concrete ground. When the salvation invitation was given, three of the Muslim girls sat with their arms crossed. But one of the four looked at her three Muslim friends, looked back toward the front and raised her hand. We watched as she prayed, along with hundreds of other kids, and asked Jesus into her life. She made a bold step… a bold step that has changed her life forever. The Head Master, or as we say, the principal, saw what she did and went and talked to her after the program. He is a strong believer himself. He confirmed that she would be disciplined if her parents were to ever find out.
Unlike public schools in the US, these schools not only allowed us to present a salvation message with an invitation for salvation, but they also helped us promote the outreach event we did in the evenings by inviting the school children to attend.  At those evening outreaches, we saw hundreds of kids attend and hundreds of kids respond to salvation!
I also had the privilege of ministering in one of the local children's churches on the Sunday before I left the country – it was an amazing time. Many of the children from the school assemblies and the evening outreaches attended and we squeezed over 500 kids into a space made for 300 kids! Again, we saw many come to the Lord.
As I type this, I am also praying for the children and Children's Ministry Leaders in Kenya – it is a place hungry for effective ministry to children.
OH – I'll post pictures soon!