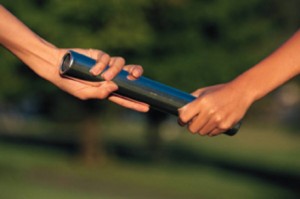 My guest on this post is Glen Woods.  I had the opportunity to meet-up with Glen and some other super-cool #kidmin leaders at Group Publishing's "ReGroup" event a few weeks ago.  Glen is the Children's Ministry Pastor at Portland Open Bible Church in Portland, OR.  His commitment to longevity is amazing!  His passion for the church to be missional is moving.  His desire to train the next generation is inspiring – as evidenced in this post… I know you will be encouraged:
This Easter Sunday, four young people gathered with me for a quick huddle and a prayer. Grins betrayed their excitement. Careful attentiveness revealed their serious desire to do their best as my ministry partners for one of our busiest ministry days of the year. As my early childhood children's church team, they were about to minister alongside me to twenty-five wiggly 2 ½ year-olds through six year-olds. At ages 17, 16, 16, and 12 respectively, my team members have long since passed their wiggly years. But for three of them who grew up in this church, I remember those days clearly. I remember their stories and growing pains. And now they all are my colleagues.
The twelve year-old is our budding Bible teacher. The others are eager to do what ever needs to be done to love these kids with Jesus' love. I am proud of this emerging generation which is so passionate to make a difference despite the challenges of their own upbringing. Some pundits cite a trend of entitlement and laziness. I see a remnant of young godly saints rising up as a prophetic voice to their own generation, as well as to their parents' generation and those yet to come. Through their actions they are calling on their peers to follow Jesus along with them. Their passion to heed the gospel inspires me to join with them, wherever Jesus may lead.
What stories of how God is moving among young people might be developing in your worship community? What part might you play in encouraging them to engage fully in God's purposes for their lives?
You can read more of Glen's thoughts and ideas over at his blog:
Children's Ministry Conversation.